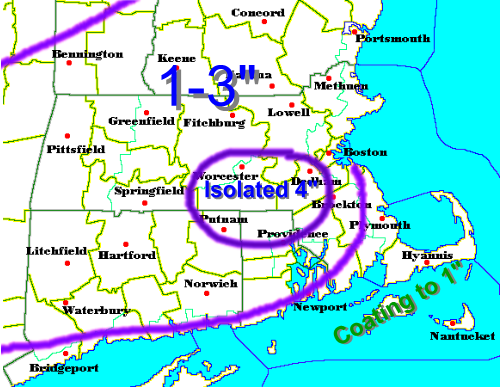 Well, we are really going to be dodging a POWERFUL ocean storm tomorrow. It is going to miss hitting us by only about 150 miles of being a major Boston snowstorm. Wow, snowfall totals could have been amazing and the coastal flooding, catastrophic. Still, we will see minor to moderate coastal flooding as the tides are astronomically high. Expect some splashover if you live right on the coast.
Regarding the snow, the storm will start as mostly rain inside of Rt. 495 and then by late afternoon may change to a brief period of light to moderate snow, generally accumulating 1-3" regionwide. A few spots in southern Worcester Co. and northern Rhode Island may see an isolated 4" amount, but that will be the exception. Generally, nothing much to talk about.
This week will generally be mild with some more light mixed precipitation on Thursday and then a bigger storm on Sunday, but this looks to be an inland runner with mild conditions and potentially heavy rain. One storm heads to far east to give us any snow then the other heads too far west to give us any snow. It has been that kind of winter.
Update Later.