Well, if you thought winter was O-V-E-R last week when we enjoyed April-like temperatures in the 50's and 60's in the middle of January, you were wrong. Winter is back and stronger than ever. More snow, heavy at times, is in the forecast for tonight into early tomorrow morning ending around 5-7 AM, but scattered snow showers and flurries may linger all day, or worse...
An Alberta Clipper, which originates in Alberta, Canada, hence the name, will be moving in on us from the NW, or Great Lakes States. Associated with this very dynamic storm is an arctic cold front that will spawn high winds and during our squalls tonight could produce blizzard like conditions for a short time. This Alberta Clipper will develop a secondary storm around the Cape Cod Bay area and develop rapidly. If this storm were to develop extremely rapidly and throw back moisture into eastern New England, we would be talking about a pretty substantial snowstorm here with snowfall accumulations on the order of 6" again, which is still not out of the question, but not that likely at this point. However, this could happen in coastal New Hampshire and the southeast coast of Maine, with a .65" MAX near Wells, ME. This would be a 6-7" snowstorm at a 10:1 ratio, but the ratio could very be higher and with the "fluff factor" we could be talking easily 6"+, near 8" or 9" of snow where this band of persistant moderate to heavy snow band sets up shop. Craziness. Currently forecasting it to be in the spot mentioned above and you can see it on the map as well in the dark blue area where a general 3-6" snowfall is forecasted by me.
Above is a map of how much water will fall from the sky overnight tonight and tomorrow. As you can see much of eastern Massachusetts and northeastern Rhode Island are in the dark green area, which equates to .25" to .5" of water. That, in a 10:1 ratio equals about 2-5" of snow. For now I am going to go with 2-4" in much of that dark green area above. In northeastern MA, in mostly Essex County and the most eastern portions of MA north of Quincy, may get involved in the band of snow mentioned above spawned by the rare "Norlun Trough." If these spots do get involved in the Norlun Trough snows, they certaintly would receive that 4" and maybe up to 6". However, I am going to be on the safe side and forecast a general 2-4" there. THUNDER SNOW is also possible with this storm so if you see a flash of lightning or a crackle of thunder, don't worry, you aren't hearing things.
Sorry Cape Cod, the Islands, and the South Coast of RI and CT. Can't do anything to muster up lots of snow for you guys. I know many of you commuters are very disappointed about that. NOT! Looks like you will be just too warm, or mild, to support any accumulating snow. You guys will see mostly mixed rain and snow, but when it comes down at its heaviest, the cold air from above may come down to cool all levels of the atmosphere to give you a time of heavy snow. However, generally you guys will see an inch or less of accumulation. Sorry, MOSTLY RAIN showers on the Cape.
Here is how I generally how the snow will accumulate: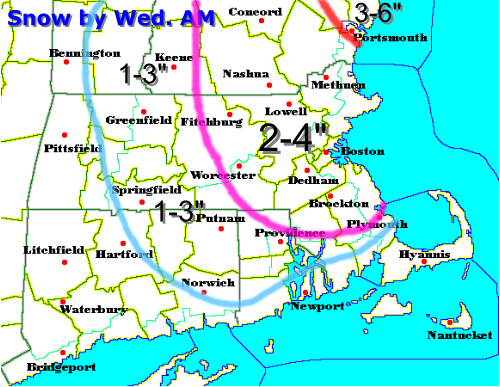 That is how the snow looks to come, with a wide area of 2-4" in eastern MA, from Worcester to Boston to Lowell to much of southern New Hampshire. 1-3" can be expected SW of Providence and west of Worcester. Outside of the 1-3" area, there will be an accumulation, but will be more scattered as much of your snow will fall as scattered snow showers and squalls. One town may get nearly 3" and nearby may only get a dusting. Northeast of Portsmouth, that is where the heaviest and most persistant band of snow will set up and a good 3-6" is forecasted there with some spots in southeastern Maine picking up 6" or more.
A SNOW ADVISORY will likely be posted for much of eastern SNE, excluding the Cape and western MA, later this afternoon and I wouldn't be at all surprised to see a WINTER STORM WARNING hoisted for the areas in Maine, near Wells, where the heaviest snow will likely fall.
Tomorrow will be a cloudy and cold day after the snow and Thursday and Friday we will be in the deep freeze with highs generally around 32. Saturday and Sunday will feature moderating temperatures ahead of the next storm, generally in the lower 40's, before clouds increase Sunday night as the next coastal low heads our way.
Right now, I will just say that the Monday forecast looks very interesting with the possibility of a decent Nor'Easter storm with abundant cold air readily available with a strong high in perfect postion in southeast Quebec. Could get even more wintry around here by that time. We'll see...
More on the tonight and tomorrow's snow later!