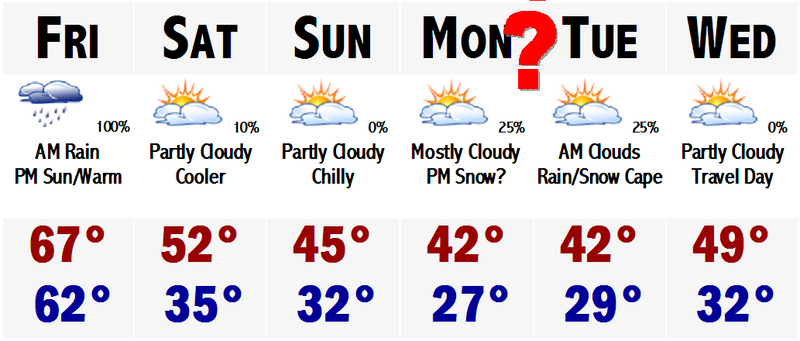 Its past the halfway point of November and we are still seeing temperatures near 70 in Taunton, MA. Here NW of Boston, it is currently in the mid 60's with Boston checking in at 68 degrees. Will this last? Well, for the next 24-30 hours, it will last.
Tomorrow looks to be like another mild day with highs in the mid 60's after morning rain. Tonight we are under a FLOOD WATCH, everywhere except SE MA. Expect rainfall to be on the order of 1-3", possibly 4"+ tonight.
There could be localized flooding during this timeframe as most of the rain will likely fall in a 4-7 hour time frame.
The link to the side is from WHDH BOSTON and shows just where the FLOOD WATCH affects. As you can see southeastern MA and southern CT is not under this FLOOD WATCH, but that does not mean that you will escape the rain. It just means that the heaviest, flooding rains, will probably not occur over you. Still, expect 1-2" of heavy rain tonight.
Looking down the line towards this weekend, Saturday, although cooler, still looks to be a tad above normal on the high temperature department. Highs should be in the mid 50's. Middle 40's are likely here Sunday and Monday. Then Monday night, there could be a coastal storm quite close to us at this time. It will be quite cold at this time with temperatures likely in the 30's. Computer models are showing that this storm system could throw some precipitation into eastern and southeastern New England at this time, possibly as a rain/snow mix. This is so far out, 4-5 days, and the track will likely change with each new run of the computer models which come out every 6 hours, that it is too early to forecast anything or side any which way. It would not be professional. But since this is not a professional site, I can tell you what exactly I am thinking.
I believe that the models will bring this closer and closer to the west, but then keep it far enough out to sea that it does not really have any effect on us here in Boston. Also temperature composites will likely come up from the borderline rain/snow line, safely above the critical 0 degrees C at 540 mb. So, expect a few sprinkles or a shower down on the Cape, perhaps just on the Islands.
Thats all for today...PEACE.