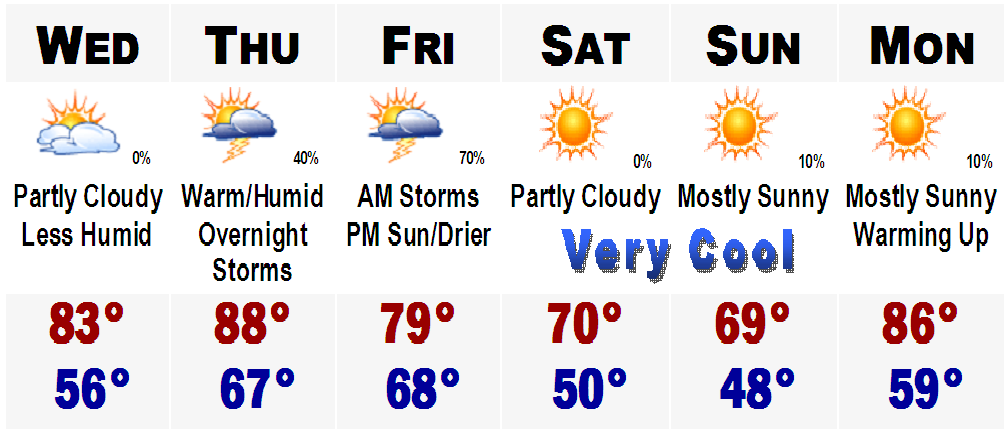 Autumn like weather is on the way for this weekend for all of New England. First we have two great summer days ahead. Tomorrow will be a perfect day with mostly sunny skies and temperatures in the lower to mid 80's. Thursday there will be more humidity and a chance of afternoon thunderstorms and showers, with highs in the upper 80's, feeling more like the lower 90's. The comes transition day Friday. Temperatures will stay in the 70's all day from start to finish with decreasing clouds, showers, and humidity. In fact the front Thursday night will be bringing in downright chilly Canadian air.
Highs on Saturday and Sunday could struggle to reach the 70 degree mark each day, especially near the coast, where temperatures on Sunday may actually stay in the upper 60's. Lows overnight this weekend will be very cool. Most urban locations, such as Boston, Hartford, and Providence may stay in the upper 50's to around 60 overnight Friday and Saturday, but just outside of the cities, temperatures could get way down. Some suburbs, such as the cooler ones like Bedford, MA, Norwood, MA, Plymouth, MA, and even Martha's Vineyard, may see temperatures drop all the way into the upper 40's! If you wake up early enough Sunday morning, you probably will be able to see your breath, and in mid August!
Don't worry though, a major warmup is forecasted for early next week. After a high of 69 on Sunday, expect temperatures to rebound into the 80's for Monday and much of next week to start out local high school football.
Tropics? Ominously quiet.