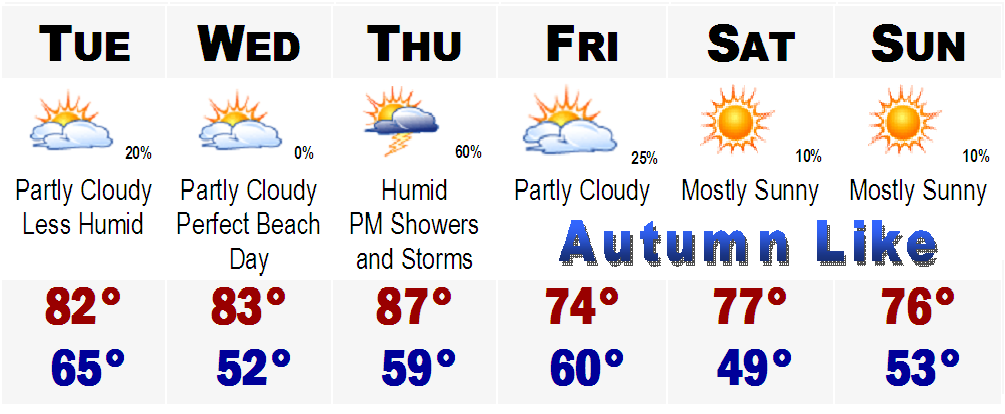 Quiet August weather is in store for the rest of the week. Today was the warm day with highs in the mid and upper 80's with scattered PM thunderstorms, with a slight risk of severe storms, but the front will move through tonight and give us fair weather for tomorrow and Wednesday before more sticky air moves towards us on Thursday.
Tomorrow's temperatures on the 6 day may be a little too high for many of us here for tomorrow and Wednesday. Most locations will actually stay in the upper 70's for the day. Thursday will be our one day back in the summery heat with a day very similar to today with highs in the mid and upper 80's and a chance of PM thunderstorms.
Thereafter, Friday through early next week will be very autumn like with highs in the mid and upper 70's with lows in the 50's. It will be a touch of September.
The tropics are starting to heat up a little with one particular tropical wave of concern, but it is so far away from the lower 48, that it is of little note at this time. If it survives an area of high sheer the next 24-36 hours, it may have a chance to develop into a depression or even T.S. Debbie. More on this story in the days to come.
Other than a few thunderstorms Thursday, enjoy the mild conditions this week and into next week. By the way, its that time of the year again. Monday, August 14th, is the first day of camp for many local high school football programs, so early next week expect nice weather with highs around 80 to 85 degrees.