What an amazing day for weather here in southern New England! It was absolutely amazing. The day began with a severe thunderstorm in Rockingham Co., NH which quickly escalated into a Tornado Warning around midday. Reports of hail 3" in diameter in Exeter, NH! Also reports of a funnel cloud and possible touchdown as a brief tornado in Rye, NH at the same time. This area was absolutely hammered today with up to 5" of rainfall as well.
Then the area of focus was the North Shore of Massachusetts. Around 2:30PM, another Tornado Warning was issued for parts of Essex County. In Topsfield, MA there was a confirmed sighting of a funnel cloud, which Channel 7 News has gotten on picture in their special links above the forecast. Amazing photo.
Here in Woburn, MA, the rain, lightning, and hail was amazing. Vivid lighting and torrential rains were common from about noontime until 3:30PM. Hail of 1.25" in diameter was also seen here in Woburn as well. Just an all out crazy day. Rainfall totals here, just north of Boston in Middlesex and Essex counties ranged anywhere from 3-5" with these storms and more heavy rain is forecasted for tomorrow afternoon with possibly more severe thunderstorms as well.
Tomorrow will start off cloudy and very humid with temperatures right around 70 degrees. Then like today thunderstorms will start to develop, scattered, in the afternoon and then mesh into a general band of heavy heavy rain, with embedded thunderstorms, with even heavier rainfall. This will continue into the first part of Thursday and all said and done, anywhere from 3-6" of rain is likely here in the Boston metro area by Thursday afternoon.
Flooding will be quite likely around here tomorrow night and through Thursday. Street and urban flooding is definite during this storm's peak, but if we do indeed get up to a half a foot of rain over the areas that saw the 3-4" of rain from today, we could be seeing more substantial flooding. It is just something we will have to watch and see.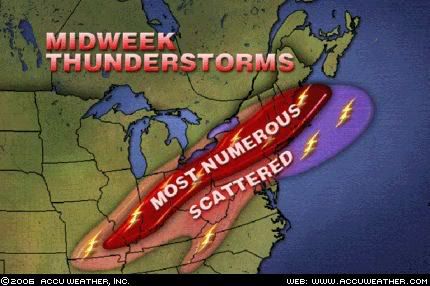 Anyhow, by Friday all the rain will become a distant memory as "drier" air will move into our region with the beginning of a HEAT WAVE likely as temperatures will top out around 90 by Friday and we will likely be in the 90's through the weekend with great beach weather and water temperatures are now starting to respond nicely as most are in the upper 60's to mid 70's.
Will have any important updates if warranted tomorrow or Thursday with the possible severe thunderstorm and potential life threatening flood threat more likely on Thursday, as well as the great details of the hot weekend on tap for us that we greatly deserve.
7 DAY FORECAST IS COURTESY OF CBS 4 BOSTON-WBZ4