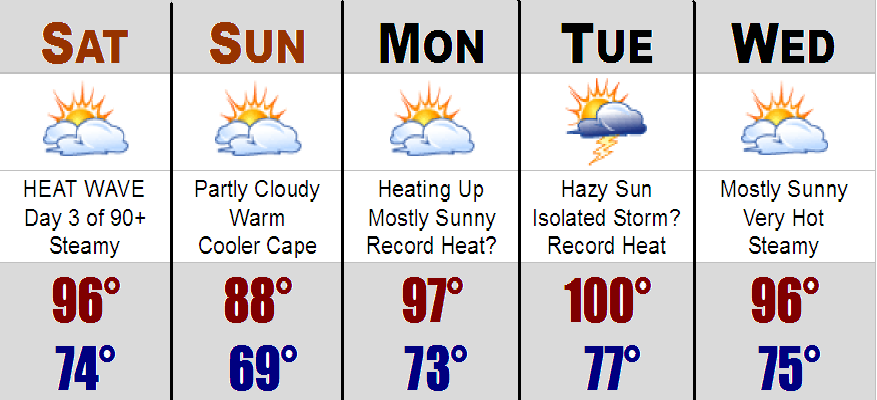 Your eyes are not deceiving you right now. Those are the actual forecast highs for the next five days for the Boston metro area. This looks more like a five day for Dallas, Texas during the month of July. Tomorrow will be consecutive day number three of 90+ making it Boston's first official heat wave since August of 2002. Sunday will "cool" into the upper 80's, probably not hitting 90 too widespread. A few towns in the CT River Valley may flirt with 90, but it will be the exception. However, Monday the heat comes back on full blast with highs all the way into the upper 90's, with a heat index making it feel more like 105 degrees.
On Tuesday we may actually hit the century mark somewhere in eastern New England. Strong SW winds will be prevalent and the sun will be baking and highs will likely be in the upper 90's to around 100 degrees even in the city of Boston! More heat Wednesday.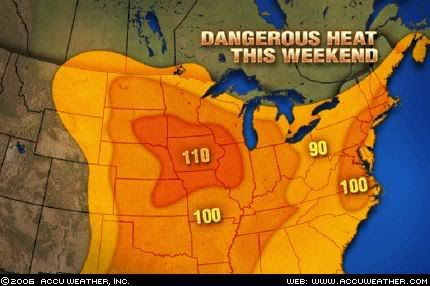 Amazing heat is in the forecast for tomorrow. Looks like near record high temperatures are possible for much of southern New England. Highs will easily top 90 and some areas could be flirting with the mid and upper 90's. SW New England may even flirt with 100 degrees tomorrow afternoon as the graphic above suggests. As you can see from the graphic, the heat is not just our problem, but the entire nation is dealing with this unrelenting heat wave. California has seen, at this time, 132 heat related deaths due to the excessive heat. Temperatures in interior California topped out over 100 again for about the 13th consecutive day. Places like Sacramento, CA have seen record high temperatures peak at about 111 degrees. Also, Death Valley, known for heat, managed to challenge the 130 degree mark. Thats even hot for Death Valley standards.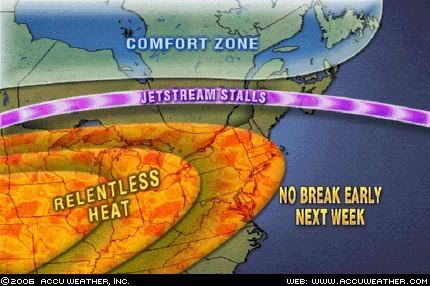 No break from the heat early next week as on Tuesday we may actually hit our peak high temperature of around 98 to 100 degrees. Wednesday will be hot as well, with highs in the mid and upper 90's again. The Monday through Wednesday stretch will likely be our second officical heat wave of the year for the city of Boston. The first one is underway right now. It started yesterday, Thursday and will continue through Saturday, cooling into the 80's Sunday. Next Thursday could make it a four day heat wave, but showers and thunderstorms could cause it to come just shy of 90 degrees. If Sunday were to make it to 90 in Boston, we could be talking about a 6-7 day heat wave. However, I don't think that will pan out.
Tropics? They are disturbingly quiet still, with no real action out there to be concerned with. There is a tropical wave way out in the Atlantic about 1,000 miles SW of the Cape Verde Islands. No imminent threat for anybody at this time. We'll watch it though.
To sum it all up...
Be careful with all of the heat the next 5 days as it could get quite dangerous for the sensitive, especially the elderly. So keep an eye out for that. Otherwise just try to stay cool and enjoy this kind of weather because if you are new to New England, this does NOT last very long. We usually get our first frost in mid September and first flakes in the second or third week of October. Thats in two and a half months! So, enjoy the summer heat.