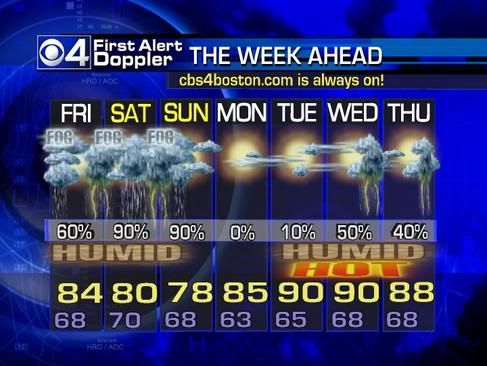 Well, we are now in the last days of July. Last night Tropical Storm Beryl turned out to be a dud for the Cape and Islands with the peak wind gust to 44 mph on the island of Nantucket. Rainfall from this T.S. ranged from around a half inch to two inches. Nothing to write home about. Beryl is quickly moving away and is quickly becoming extratropical and becoming nothing more than an ordinary upper latitude storm system.
However, there is a cool front coming into the area and ahead of it there is warm and very humid weather out there. Temperatures, with the sun at the noon hour, have responded nicely into the lower to mid 80's with dewpoints around 70, making it feel very oppressive out there. Showers and thunderstorms are forecasted to develop this afternoon around southern New England, and a few of them may be severe, with strong gusty winds, torrential rains, frequent cloud to ground lightning, and even some small hail possible.
For tomorrow morning, tonight's storms will clear out before more showers and thunderstorms develop in the afternoon again. Again, the rain with these storms could be quite heavy and we are generally going to see anywhere between 1-2" of rain from all the storms from this afternoon until it all tapers Sunday morning, before skies clear and the humidity subsides for a little in the afternoon on Sunday with highs around 80.
Things will heat up again later next week, starting on Tuesday. Temperatures on Tuesday could manage to hit 90, and again on Wednesday and right now temperatures may just be a little shy of 90 on Thursday, but there is a possibility of heat wave number 2 in Boston's western suburbs next week. Boston will likely not see a heat wave as the influences from the 66 degree ocean water is much too strong to keep away early afternoon sea breezes cooling the town substantially, while just outside of Boston is baking in temperatures over 90. Along with the heat later next week, a few isolated thunderstorms are possible on Wednesday and Thursday.
7 Day Forecast Courtesy of CBS 4 Boston ~ WBZ ~ Viacom