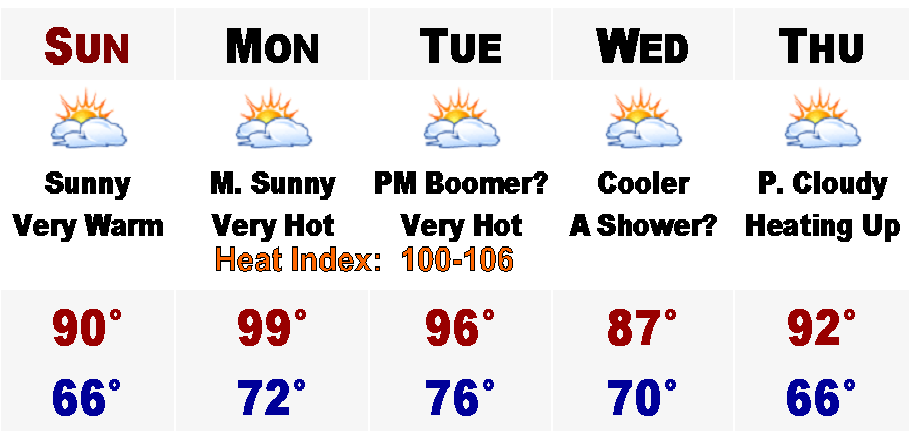 Today's high at Boston's Logan International Airport was 89 degrees. That will make us start at day number one for the official heat wave as yesterday's high of 91 degrees will not be part of what could be our first official heat wave since August of 2002. We still could get a heat wave in Boston, Sunday through Tuesday.
Besides all that technical mumbo jumbo for records and stuff...to you and me...ITS DOWNRIGHT HOT OUT. Much of the lower 48 is under this Heat Wave. Today in North Dakota, temperatures throughout much of the state were in the 100-110 degree range. Further southeast into Chicago, IL, temperatures today were in the upper 90's to around 100 and tomorrow in the Windy City, the high could top 100 degrees. If you are looking towards the Rockies for relief from this heat, you would be mistaken. High temperatures for the cities of Denver and Salt Lake City tomorrow the 16th, will be around 100-105 degrees respectively. The only "relief" from the heat would be in Seattle, WA, as temperatures there have remained in the mid 70's with some marine air influence, keeping them out of this historic heat wave.
Blazing heat is definitely on the way with highs tomorrow in the upper 80's to around 90, add dew points around 70, and it will feel more like the lower to mid 90's out there tomorrow. Monday afternoon could be our hottest since last August when Boston hit 97 degrees. Up in the 5 day, I am calling for a high of 99 degrees, but that is for the hottest of areas, like Nashua and Concord, NH. More likely, Boston will top out around 94-96 degrees. That will be a similar forecast for Tuesday as well. Coupled with dew points in the lower to mid 70's, the real feel temperature will be more like in the 100-106 degree range.
Also, during this time, at night we will not really cool off. Tomorrow night, in the coolest areas, temperatures will fall into the upper 60's. In urban areas, like Boston and Lowell, temperatures overnight may remain in the lower to middle 70's. Monday night, overnight temperatures in the urban areas may stay in the mid to upper 70's! That is the normal daytime high temperature for mid June!
However on Tuesday there will be a cool front coming down from southeastern Canada that will touch off scattered showers and heavy thunderstorms. These storms will filter in some much drier air for Wednesday, but the temperatures will still remain on the warm side, mainly in the mid 80's.
Thereafter, expect the furnace to be put back on fully, with temperatures nearing 90 by late week, next week.
Stay cool.