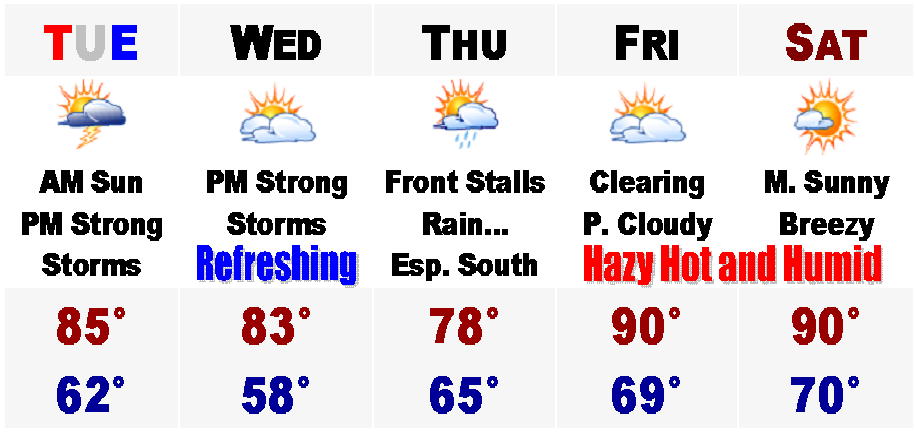 What a day this third day of July has turned out to be in eastern Massachusetts. The air is dry and the temperatures are very warm inland with highs in the mid and upper 80's, but upper 70's along the coast with an afternoon sea breeze. Perfect.
Out in western New England, there is currently a Severe Thunderstorm Watch for the potential of severe thunderstorms until 9PM tonight. There were a few Severe Thunderstorm Warnings in northern CT and RI earlier, but those storms have started to weaken. To the south, dew points are starting to rise already with dew points in the mid to upper 60's.
Tomorrow will feature higher humidity and the heat will be with us for the Fourth. Highs should manage the lower to middle 80's before showers and thunderstorms start to develop anytime after 2PM. The window of highest threat for strong to severe thunderstorms, with frequent lightning, large hail, and strong gusty winds in excess of 60MPH, with likely be between 2PM to 8PM. At this time, I believe the NWS will likely hoist a Severe Thunderstorm Watch for much of southern New England as we will all be under the gun for severe weather to hamper Fourth celebrations.
For Wednesday, we will dry out for a time with highs managing the 80's once again before showers develop overnight as the front that went by on the Fourth will try and sneak its way back up here during this time. For Thursday, right now computer models have rain with the front just offshore of the Cape with a little area of low pressure on it. How close to this front will determine if we see organized masses of showers or just a plain steady rain. One computer model, the NAM, has anywhere between 1-2" of rain for areas to the south of the Mass Pike on Thursday morning, with areas to the north seeing much less rainfall. This is the most threatening of the computer models and the more trusted GFS model only has a few showers on the Cape for Thursday, with areas to the north of here even seeing some sunshine. Right now, I am going to side with the drier of the two scenarios at this point, but just mention that there is the possibility of some rainfall in the 5 Day.
After this speed bump in the forecast, Friday will feature clearing skies and temperatures will rebound back into the upper 80's to around 90, except around 80 on the South Coast and Cape. Humidity will also increase at this time and the heat looks to continue into this upcoming weekend with the nation east of the Rockies possibly going into a prolonged Heat Wave of greater than 6 days, which means once the 90's arrive on Saturday, they might be with us for a while afterwards. It is just something we will have to stay tuned to, just to see if this indeed does occur. At least summer has arrived and all these rainstorms seem to be a thing of the past. Hopefully. Just watching Thursday...