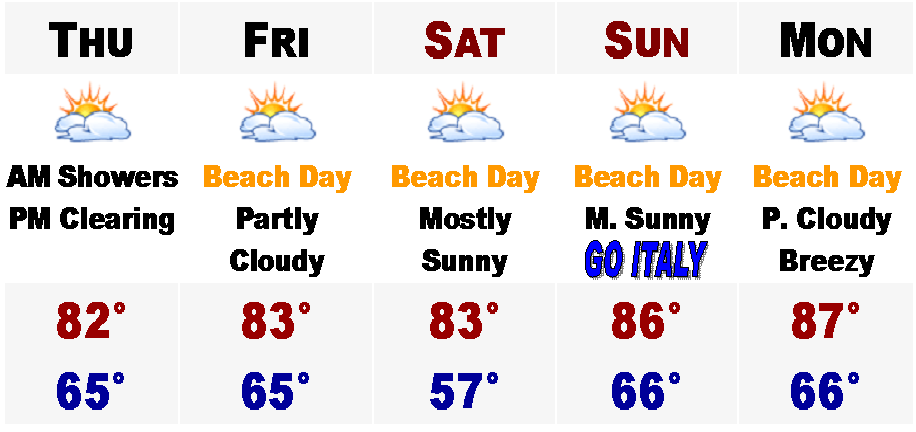 Hope your 4th was nice and you managed to dodge the showers and severe thunderstorms. Hearing reports out of Hopedale, MA that there was a microburst from a severe thunderstorm that had straightline winds in excess of 90 MPH. Hope everyone is okay as there were many downed trees. Elsewhere, many areas saw a quick hitting heavy rain with wind that went by and many communities got off their fireworks display without incident. However, Nantucket had to postpone their fireworks until tonight because of fog. I am not so sure that they will be able to get the show off tonight either because of the rain down on the Cape.
Speaking of the rain down on the Cape today, it is associated with the front that is pushing through the area. A little ripple of low pressure developed and is now bringing a shield of rain from the South Shore on southward. Expect the rain to gradually pull southward and the South Shore should start to dry out by now, this afternoon, while the Cape and islands may see a damp night for the vacationers down there. North of the Pike, it is totally dry with overcast conditions and tempertures near 80. Cape Cod will stay in the lower to middle 70's during today's mini rainstorm. Generally expect total rainfall to be under one inch.
After today, the weather will turn out to be perfect for all outdoor activities, including going to the beach. We will transition into a period of perfect weather with low humidity for tomorrow, Friday, and Saturday with highs generally in the 80's, even on the east coast facing beaches. Humidity will increase on Sunday, but it will remain dry and warm with highs in the mid 80's. I will be pulling for Italy to win the World Cup Championship then. Right now Portugal and France are in the 48th minute with France on top 1-0. We will soon find out if the Italians will be hosting the French in the 2006 World Cup Championship game.
Monday will feature the same weather as Sunday with highs approaching the upper 80's to around 90, except around 80 on the South Coast and Cape. The Islands will stay in the 70's.
Enjoy the nice weather upcoming later this week.