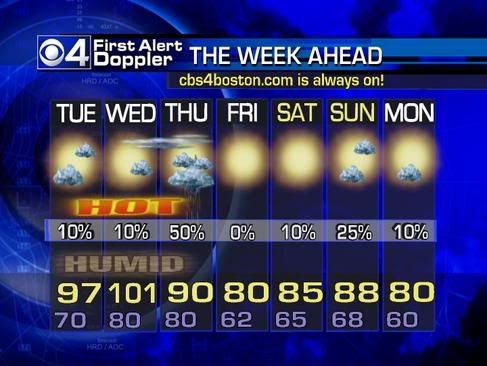 Amazing heat is on the way for all of southern New England the next two to three days. Tomorrow will be the pregame for the record heat that we will experience on Wednesday when much of southern New England will be topping into the lower 100's. Heat indices, the excessive temperatures along with dewpoints in the 72-78 degree range will make the real feel temperature feel like 100-105 degrees tomorrow and more like 110-115 degrees on Wednesday. That is why all of southern New England except the Cape and Islands are under an EXCESSIVE HEAT WARNING at this time. It will be a threat to your health and could unfortunately cause some heat related deaths, especially with the elderly living alone without air conditioning.
Thursday will be the transition day to cooler times with scattered showers and thunderstorms in the afternoon. Should these storms disrupt the Sox or Spinners games? Well, at this time it will be a close call, but I'd say keep all plans intact.
Cooler air invades Friday with highs in the upper 70's to around 80 with lows in the upper 50's in the suburbs to lower 60's in Boston. It will be a welcome relief.
Tropics are becoming interesting with several impressive tropical waves, especially one heading towards the Windward Islands, but nothing is posing an immediate threat, so just stay tuned.