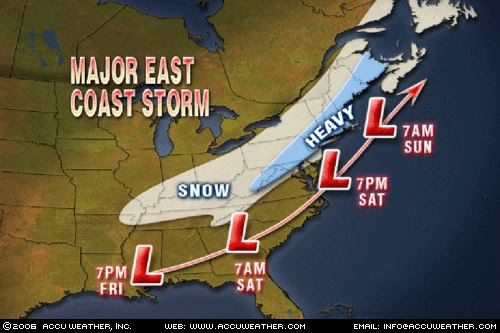 Well, if you have not heard by now, there is a major snowstorm on the way for most of central and southern New England this weekend. Some of the northern mountains may even pick up a decent snowfall from this one. Well, yesterday there was a big shift in the models from an "Out to Sea" storm to a storm that is very likely going to be the defining event of the '05-'06 winter season. Snow accumulations could be very very heavy...likely over a foot in much of southern New England from Hartford to Worcester to Boston.
This is going to be an I-95 Special with heavy snows from the mountains of North Carolina to western Virginia including Washington D.C. This area of moderate to heavy snow accumulations, at least 5", will move northeastward including Philadelphia and much of Pennsylvania, where Philadelphia could be seeing anywhere from 5-10" and interior PA could see 10"+. Northeastward into New Jersey and New York City, a solid heavy snowstorm is on the way for easily 6"+ of wind whipped snowfall. Northwest New Jersey and southeast New York may see even more snowfall than that. Northeast from there is where it will get very interesting where the heaviest snow will fall. Accumulations of 12"+ are starting to look very likely for much of CT, RI, and MA. The only exception to this would be the Cape and the Islands where some rain may get mixed in, especially in the middle of the storm. However, with the newest models coming in, even there, may stay mainly a snow event, allbeit a heavy wet snow event for them.
This is getting very interesting, not only for the potential of crazy snowfall accumulations, but for the fact the winds from the northeast could get very strong, especially near the coastline. Wind gusts of 50 mph or more are very possible. These strong winds could cause minor to moderate coastal flooding along the northeastern facing beaches in much of southern New England.
By the way, if you are in Maine, you will not be out of this storm, as you too will fare the brunt of this storm with snowfall accumulations of easily 6-12" from Portland to Bangor. Western Maine may see a little lighter snowfall accumulations, however.
Stay tuned. This could turn into a dangerous winter storm. Time period to watch will continue to be later Saturday night into the first half of Sunday with strong winds and heavy snows. I will have more detailed and official snowfall accumulations later tonight or tomorrow with a map...I will probably get one off of Accuweather.com and compare it to the one that I will make. Should be very very interesting.
More on this developing winter storm later!