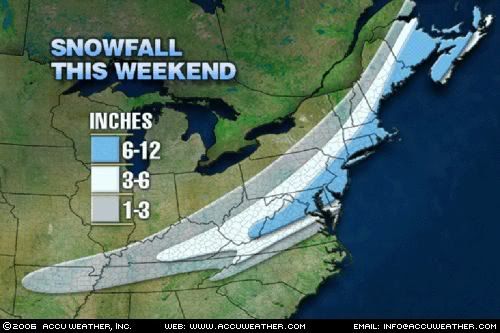 Here is the Accuweather updated snowfall forecast. As you can see much of our area is in the light blue 6-12" range, with 3-6" in much of the southern half of New Hampshire. The NWS has issued a WINTER STORM WATCH for all of southern New England. Currently they are calling for a
widespread 8-14" in the entire watch area with 4-8" southeastward towards Plymouth and the Cape, including the islands. However, new information is starting to trend the storm farther south and east taking much of the heaviest of the snows south of the Pike and out to sea.
This will not be a blockbuster by any means for anybody. Although, it now looks like the Cape and the islands will be seeing heavy snows on the order of 10" or more likely.
Breakdown of the storm...
Starts tomorrow night after sunset. Snow becomes heavy south of the Pike after midnight with near Blizzard conditions on the South Coast and Cape. Light to moderate snows will fall north of the Pike. Coastal flooding should generally be minor with some splashover, but nothing catastrophic by any stretch of the imagination. General tune of this forecast is that I am now downplaying this storm as much of it will harmlessly head out to sea now. Sorry, snowlovers. This storm will still bring some snow, but if you planned on being stranded on Sunday, too bad.
After all that here is what I am currently thinking for snowfall accumulations...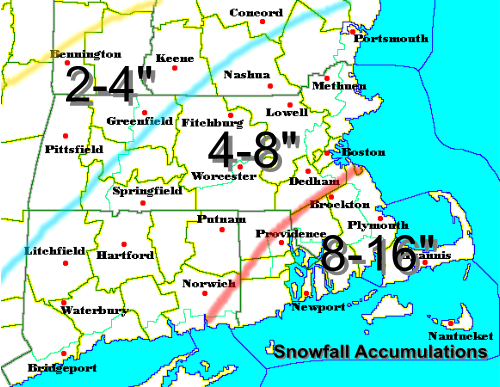 As you can see, I have dramatically lowered the forecasted snowfall accumulations from yesterday and even this morning for areas north and west of Boston. I am still expecting that all counties in Massachusetts will have their Winter Storm Watches upgraded to Winter Storm Warnings. I would not be surprised to see the Winter Storm Watch in Pittsfield County and all in New Hampshire and Vermont to be dropped and eventually downgraded to a Snow Advisory with about a general 2-4" snowfall. Further north and west of there, you will be hard pressed to see a snow flurry. Cape Cod, you will have the jackpot with snowfall accumulations of over one foot likely. A few spots in southeast MA may even see some 15" or 16" amounts.
Finally a city by city trip...
Boston: 6-8" (windswept light fluffy snow)
Hyannis/Cape Cod & Islands: 10-14" (isolated 14"+)
Worcester: 5-7"
Providence: 9-12"
Woburn: 5-8"
Nashua, NH: 3-6"
Western MA: 2-6" (very dependent on the track)
All these snowfall accumulations may need to be raised or lowered all depending on the ultimate track of the storm.
More later and stay tuned!