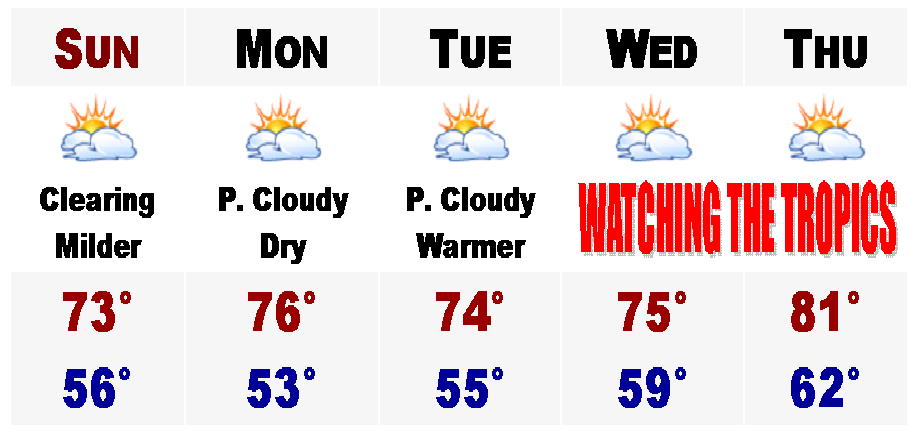 Well, you guessed it. Another day and it is raining again. Another rainy Saturday, but this crazy wet pattern will be breaking with a few catches, some good some bad.
The good news is that tomorrow will be totally dry with sunshine developing in the morning and the sky should remain partly cloudy, but there could be more clouds blocking the sun in the afternoon because when the sun bakes the ground, all the low level moisture from our week's worth of rain will evaporte and condense forming clouds, so the afternoon could very well turn out mostly cloudy. Hope not though. Highs should rebound into the lower 70's and on Monday the sun will be prodominent and highs will be back in the middle 70's for all those baseball and softball games and tee times. Should be a great day and Tuesday should be the same. Absolutely perfect.
Then all eyes turn to the TROPICS...
Tropical Depression ONE has developed just SW of Cuba this morning and is forecast to become Tropical Storm Alberto, the first named storm of the season, by late tonight or tomorrow. Right now it looks like anywhere from Tampa to just east of Pensacola on the Gulf Coast of Florida will be the target zone for this Tropical Storm to make landfall, winds at this point could be anywhere from 45-65 mph. Still too early to speculate on this right now. Then things get interesting as it speedily leaves the peninsula of Florida and regains some strength on the northeast coast of Florida. Current projections have this being a minimal tropical storm or just strong low pressure system at this time with lots of tropical rains and strong winds.
Does it hug the coast like a classic Nor'easter? Will it still keep its tropical characteristics? How much rain will it dump? How strong will it be?
These are some tough questions that will need to be answered because even if it is not a tropical storm when and if it arrives in Southern New England later next week, we just cannot hold anymore water in our saturated soil. In the past 40 or so days, Boston's Logan International Airport has received a record 18.43" of rain, likely with another half inch to three quarters of an inch iwth today's rain added on top of that. And parts of the North Shore in the Merrimack Valley have received anywhere between 20-28" of rain in the past month alone. The rivers are full. If this did make it all the way up the coast rainfall totals could easily surpass 4" and local amounts could even exceed 6". It would be a disaster.
Here is the current forecasted track from the National Weather Service.
I will have more on this developing situation later on if this possible tropical system becomes an imment threat to Boston and New England.