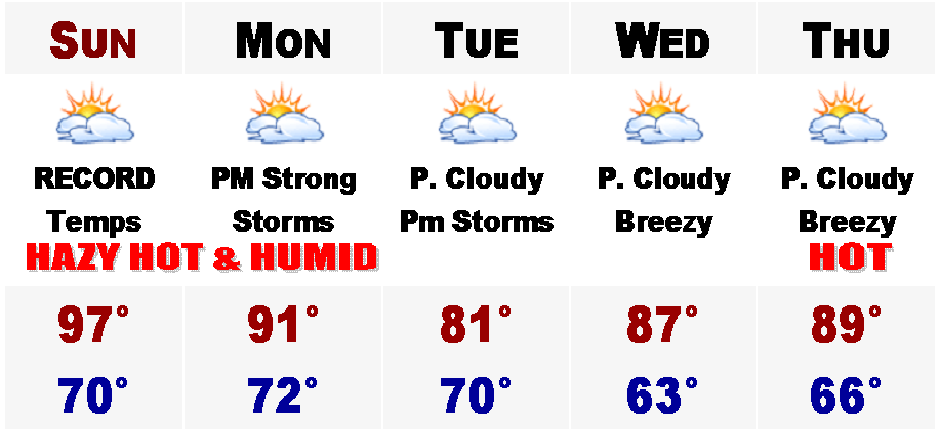 Happy Father's Day for all the fathers out there tomorrow. It should be an extremely HOT and humid day with highs generally in the mid 90's, except lower 80's on the Cape and upper 70's on Nantucket, where they will get some natural air conditioning from the ocean.
The rest of us will have to rely on electricity to keep us cool as heat indices tomorrow afternoon should be in the upper 90's to lower 100's. The dew points should make it into the upper 60's to around 70, making it feel downright oppressive. Tomorrow, there is the Commissioner's Cup in Wilmington, MA, the second day of tournament play, hoping Woburn beats Wilmington. Also, many of MA youth travel soccer teams are in Amherst, MA for the States. It should be very hot and dangerous to not keep hydrated. Temperatures in the morning should start in the mid 70's by 9AM, mid to upper 80's by NOON, lower 90's by 2PM, and mid to upper 90's by 4-5PM in Wilmington and Amherst tomorrow. Heat indices should hit their peak around 4PM, hitting 100-105. Be safe.
Monday will be another hot and humid day but a cool front from the west will be moving into our area in the afteroon, jeopardizing afternoon summer baseball games with heavy showers and strong to perhaps severe thunderstorms. Until then, temperatures will likely hit 90 again.
Tuesday, cooler and drier weather will be in place, but still expect highs in the lower 80's. The heat returns by later next week as SUMMER VACATION begins for many schools around here Thursday.